Lostock Hall
Rear Single Storey Extension
Kitchen Extension Lostock Hall
We were tasked with helping our client with their ground floor rear kitchen extension in Kilngate, Lostock Hall. Our client had the desire to extend the property as much as possible while still complying with the Council's current planning policies.
To achieve this, we extended out from the original extension and partially converted the garage, adding a new utility and W.C. This increased the floor area by a modest 20m², providing the property with much-needed space. By removing the rear external wall, we created a large open-plan kitchen and dining area that boasts beautiful French doors, offering stunning views of the garden and providing ample natural light.
At the front of the property, we reconfigured the floor space by converting the garage, allowing us to create a highly desirable new W.C. and provide a convenient location for a new utility room.
We believe a downstairs toilet is a great addition to a family home as it provides convenience for residents and guests, increases property value, eases congestion in the main bathroom, and improves overall functionality.
If you're thinking of embarking on a similar project to our "Kitchen Extension Lostock Hall," feel free to take a look at some of our recent projects for inspiration.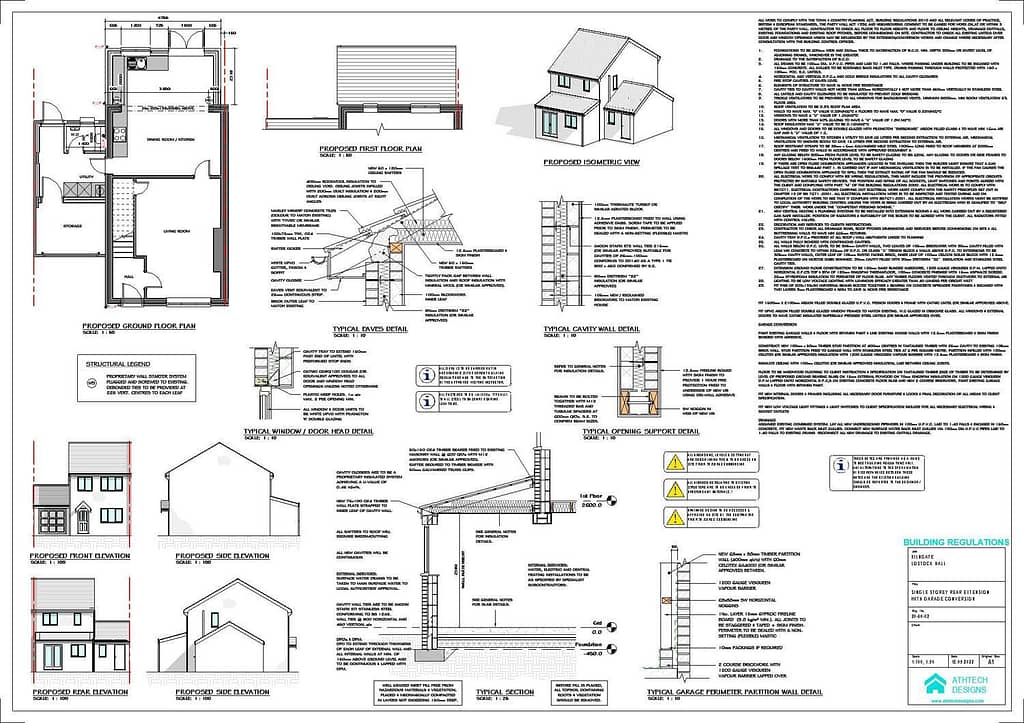 Our thoughts
When considering a single-storey extension, it is essential to keep the overall build cost in mind from the outset. To avoid overspending on luxury finishes or fittings, it is important to carefully plan and prioritise your needs versus your desires. Start by identifying your essential requirements, and then create a wish list of additional features. Be sure to factor in all elements when estimating the final cost. By taking this approach, you can maintain control over your budget and avoid any unexpected expenses.
At Athtech Designs, we're always available to provide advice on designing and planning your extension or new build. Please don't hesitate to get in touch with us via email at athtechdesigns@gmail.com or by phone at 07897595656. We're here to help!
Thinking of starting your own projects? Feel free to take a look at some of our blogs:
The difference between 'Planning Permission' and 'Building Regs' drawings
Why move when you can extend? Are Extension Plans Required?
What is Permitted Development?
If you have a similar project to our "Single Storey Extension" project, feel free to get in touch for a brief chat, Athtech Designs are here to help.