Extension Plan Project: Leigh
Extension Plan Project Leigh
This project was undertaken and completed under Permitted Development rights, meaning no need for a Planning Permission application as the projection of the proposed rear wall from the existing rear wall was no more than 3m. It illustrates what can be accomplished with a moderately small room for an extension, and smart use of internal planning. A few internal walls were removed, and a W.C and new utility was formed to make life a lot easier for our client's ever-growing family.
At the detailed planning stage, drawings were finalised including ground floor layouts, elevations, and sections with the required dimensions. Our approved builders then constructed the extension to make it water-tight based on our drawings and outline specification.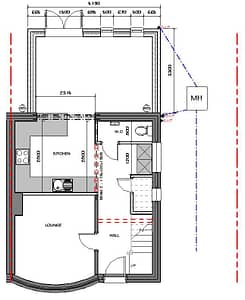 The client originally wanted a flat roof as they liked the style and wanted a fashionable aluminum roof lantern to give them as much natural light as possible, however, after much consideration, they decided to keep costs at a sensible level and go for the more practical lean-to roof solution with added skylights.
There was good teamwork between the Athtech Designs, builders, and clients throughout that facilitated the ease of the overall build, without diminishing the impact of the overall look and aesthetics.
Ultimately, the extension build is a traditional cavity block with an external render with a lean-too concrete roof tile and skylights with French doors overlooking the large alluring garden. The open plan kitchen extension now has desirable ground and first-floor W.C's and a much-needed utility.
If you need help with any of your extension ideas, Athtech Designs will guide you through the Planning & Building Regs stages and also create bespoke building plans at cost-effective prices!
Adding an extension to your house is a great way to create more space and increase its value. But before you start building, it's important to have proper extension drawings. These drawings show the design and layout of your extension, including technical details like measurements and materials. They're usually made by architects or designers and are necessary for getting planning permission and meeting building regulations.
Here are some reasons why having good extension drawings is so important:
Planning permission and building regulations: You need detailed drawings to get planning permission and comply with building regulations. Without them, you can't start building.
Cost-effective: Detailed plans can save you money by preventing costly mistakes during construction. If you have to make changes during the build, it can be expensive and time-consuming. Good House Extension drawings can help you avoid these problems and stay within your budget.
Communication: Extension House drawings help ensure everyone involved in the project understands the proposed design and layout. They also help different trades and suppliers work together effectively.
Design flexibility: Good House drawings allow you to experiment with different design options and see how they'll look before construction starts. This helps you refine your design and create a space that meets your needs.
Quality assurance: Detailed plans help ensure the building work is done to a high standard and meets your expectations. You can monitor progress and make sure everything's being done right.
In short, good House extension drawings are essential for a successful home extension project. They're necessary for planning permission and building regulations, can save you money, facilitate communication, provide design flexibility, and ensure quality. So invest in detailed and accurate drawings to ensure your extension turns out just the way you want it.
Thinking of starting your own project? Feel free to take a look at some of our blogs:
Loft Conversions – A beginners guide
Why it's important when choosing the right Builder.
Value of Detailed Architecture Drawings.
If you have a project, feel free to get in touch for a brief chat, Athtech Designs are here to help.
Extension Plan Project: Leigh